Powell's Chapel will celebrate its 141st anniversary in July 2016. This is final post in a series of blogs highlighting the rich history of Powell's Chapel and its impact on the local community.
Powell's Chapel's centennial celebration took place on July 27, 1975, exactly one hundred years and two days after the first meeting of Powell's Chapel at the abandoned Shady Grove Methodist Church.
Church member Eleanor Dowdy remembered that the day was very hot. "We all tried to dress in period dress, like long dresses and hats. I remember I wore a long dress and a big picture hat and it was really a big to-do."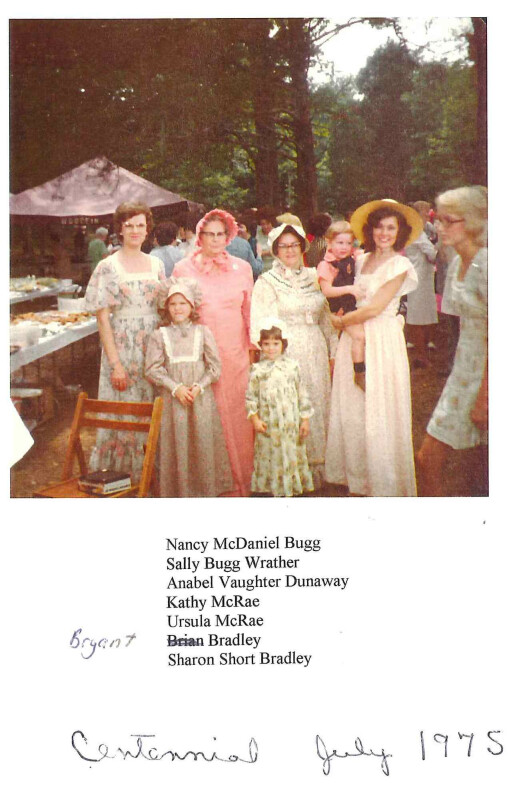 The church hosted a dinner for past pastors, their wives, and the local clergy on Saturday and a dinner on the grounds on Sunday. Mary Alice Short served on the food committee and recalled feeding almost five hundred people on Sunday without a kitchen on site. The women of the church brought the food with them. So many people attended that all the windows were opened and chairs set outside around the sanctuary so people could hear the proceedings. Even the choir loft was overcrowded that day. Both Mary Alice and her son Gerry Short laughingly told the legendary story that Mary Alice's younger son Duane tumbled out of the choir loft and landed outside in the hall when his folding chair got too close to the edge. The church and community enjoyed celebrating a century of successes.
The Centennial Celebration marked the end of a great era for the church and a turning point for the community. Powell's Chapel Baptist Church ended its first hundred years with 314 members. It owned property worth $90,000 including the church building and pastorium. One hundred forty-seven people were enrolled in Sunday School and 106 in Church Training. The church maintained active Women's Missionary Union and Brotherhood programs along with a growing music program. It closed the year by forming a long-range planning committee to move toward the future.
In 1975, the congregation of Powell's Chapel celebrated the milestones of one hundred years as a beacon in the rural community in northern Rutherford County. While the people of the church focused on the nostalgic aspects of the centennial by dressing in old-fashioned clothing and telling stories of beloved members who passed away, the century they celebrated included many significant accomplishments for the church that transformed Powell's Chapel from a group of ten individual Baptists looking for a meeting place into a vibrant congregation that served as a leader in the local community.