A Golden Age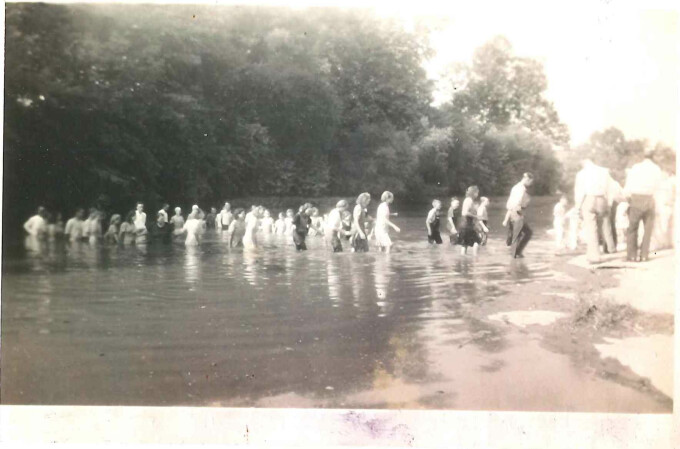 Powell's Chapel will celebrate its 141st anniversary in July 2016. This is fourth of a series of blog posts to highlight the rich history of Powell's Chapel and its impact on the local community.
The dawning of the 1940s brought Powell's Chapel Baptist Church into a decade that saw the congregation reach the height of its membership and achieve financial stability. According to church records, the summer of 1941 provided a number of records for the church. The church averaged 146 in Sunday school for May; in June they averaged 181; in July 207. In August 1941, the church held a series of revivals led by
its new pastor, Luther Joe Thompson.
Following the two-week meeting, forty-four people were baptized in nearby Stones River, a record for the number of people baptized by the church in one day. Church documents tout the records but do not speculate as to the reason church attendance grew so quickly during that summer. It is worth noting, however, that the neighbor church, Jerusalem Cumberland Presbyterian, struggled during this time, closing for five years in the early 1940s due to lack of attendance.
L.G. Frey, the Recording Secretary of the Tennessee Baptist Convention in 1947, attributed the success of churches like Powell's Chapel to their full-time status and commitment to winning souls for the Lord. He wrote, "Any country church reaching, teaching, training its members and leading them in worship, in winning the lost, and financially supporting a full-time program, should be considered successful."
Photo: Powell's Chapel Baptism in Stones River, August 1941. Courtesy of Donna Carroll.